EPC

28 ₽

CR

0.06%

CR for 48 hours

0.00%

Approval rate

100%

Cookie lifetime

30

days

Avg. hold time

No data available

Average payment time

No data available
Banners and Links
"Dynamic ads" tool shows ads for AliExpress products to the users based on their browsing behavior on AliExpress.com and the content of your website so that users see ads for only those products that they are interested in. Such targeting helps to increase the click-through rate of your ad and thus your reward. You can find more information about this tool in Help Center.
Program Analytics
Product Feeds
Here you can get a link to original product feed of this program. Links in product descriptions have been replaced by deeplinks. Time of last updating has also been added.
Products: &nbsp&nbsp Updated: &nbsp&nbsp Updated by advertiser:
Landing pages
This section provides the rating of landing pages of this affiliate program. You can learn and compare the average cost for click and conversion rates of different landing pages, or get links to them.
Program information
Why Admitad?
detail analytics and useful tools,
express payments,
enormous range of affiliate programs,
trusted by 674210 publishers,
and much more.
This affiliate program is a part of the Admitad affiliate network
In order to start cooperation with the program, first you need to register in the system.
JetRadar is the company that was created in 2007 as an airfare blog by Russian founder Konstantin Kalinov. Nowadays JetRadar is one of the largest online search engines for flights all over the world. Its sister-brand Aviasales is the popular service which online-users also appeal to while looking for the best airline prices.
This service helps thousands of people compare airfares from 552 airlines and dozens of travel sites.Thanks to the JetRadar it is possible for users to track down carriers' special offers, and book the cheapest tickets available.
Also it provides travelers with great deals on different directions (domestic or international flights), and by using these unique offers the service has already deserved consumers' loyalty.
There are some undoubtable advantages of the web page:
1) It is multilingual (users can search in English, Spanish, French, German and Italian);
2) It is simple in use;
3) It has a friendly interface;
4) It is very fast – users can get result in a moment.
The largest selection and the lowest prices for users ensure the best conversion rate. The target audience is wide enough as it is not restricted by any requirements (age, sex, etc.) The fastest travel search engine on the web helps users to find flights to all destinations from all major airlines.
Join us!
JetRadar affiliate programm!
Basics
Виды трафика: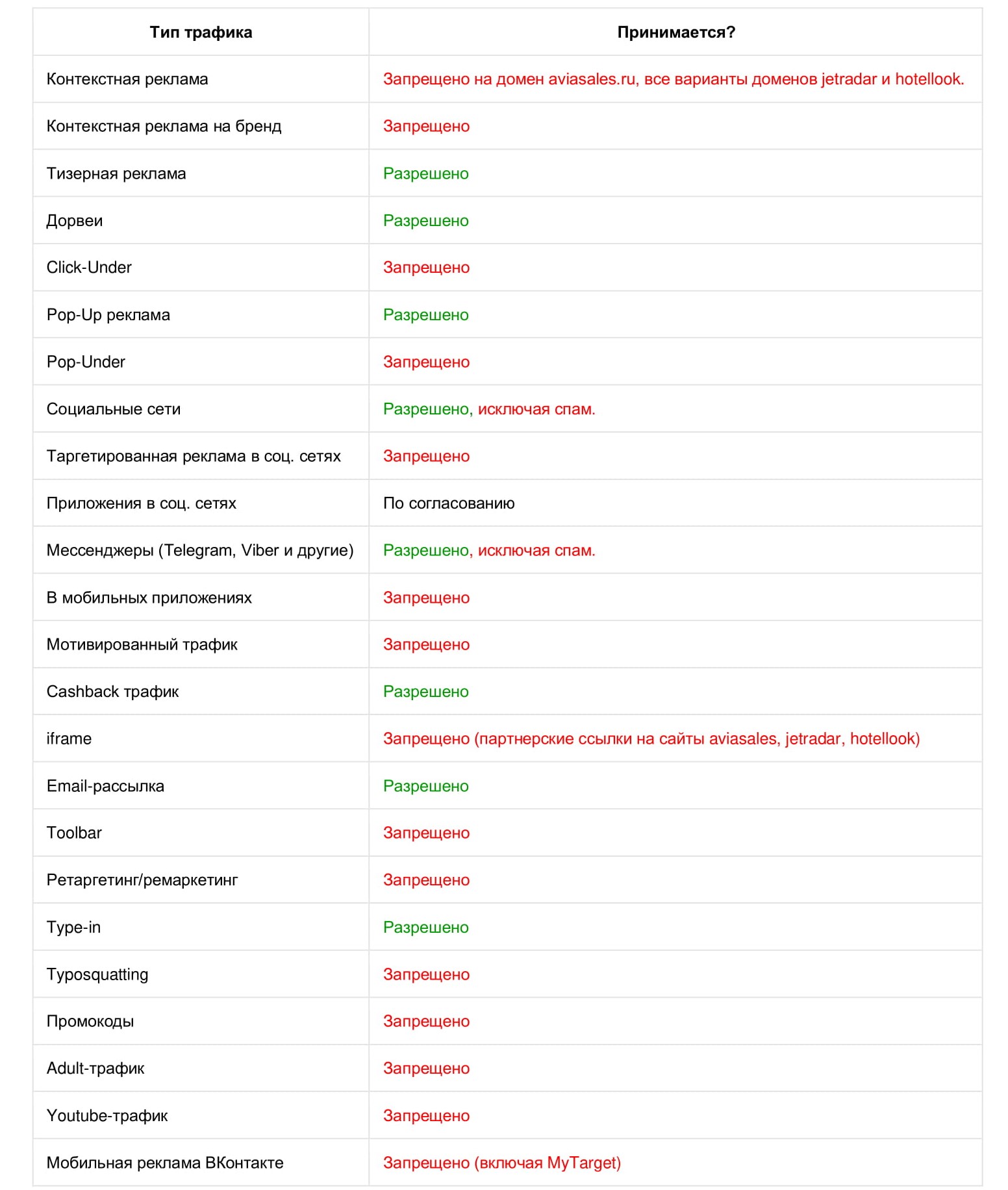 Менеджерам по вебмастерам: рекламодатель самостоятельно модерирует кампанию
Last changes were recorded on 22.03.2021
Traffic Sources
| | |
| --- | --- |
| PopUp / ClickUnder | Forbidden |
| Mobile traffic | Allowed |
| Targeted ads | Forbidden |
| Facebook | Forbidden |
| VK | Forbidden |
| MyTarget | Forbidden |
| Other | Forbidden |
| TikTok | Forbidden |
| Content site | Allowed |
| Other | Allowed |
| Affiliate stores and price comparison services | Allowed |
| Forums | Allowed |
| Loyalty programs | Allowed |
| Messengers | Forbidden |
| Coupon services | Forbidden |
| Lead call | Forbidden |
| API traffic | Forbidden |
| YouTube Channel | Allowed |
| Adult | Forbidden |
| Toolbar | Forbidden |
| Incentive | Forbidden |
| Groups and blogs on social Media | Allowed |
| Brand bidding | Forbidden |
| Email Marketing | Allowed |
| Banner and teaser advertising | Allowed |
| Cashback | Allowed |
| SEM | Allowed |
Last changes were recorded on 11.03.2022