EPC

211 ₽

CR

4.08%

CR for 48 hours

1.45%

Approval rate

69%

Cookie lifetime

30

days

Avg. hold time

22

days

Average payment time

23

days
Banners and Links
"Dynamic ads" tool shows ads for AliExpress products to the users based on their browsing behavior on AliExpress.com and the content of your website so that users see ads for only those products that they are interested in. Such targeting helps to increase the click-through rate of your ad and thus your reward. You can find more information about this tool in Help Center.
Program Analytics
Product Feeds
Here you can get a link to original product feed of this program. Links in product descriptions have been replaced by deeplinks. Time of last updating has also been added.
Products: &nbsp&nbsp Updated: &nbsp&nbsp Updated by advertiser:
Landing pages
This section provides the rating of landing pages of this affiliate program. You can learn and compare the average cost for click and conversion rates of different landing pages, or get links to them.
Program review
Why Admitad?
detail analytics and useful tools,
express payments,
enormous range of affiliate programs,
trusted by 824576 publishers,
and much more.
This affiliate program is a part of the Admitad affiliate network
In order to start cooperation with the program, first you need to register in the system.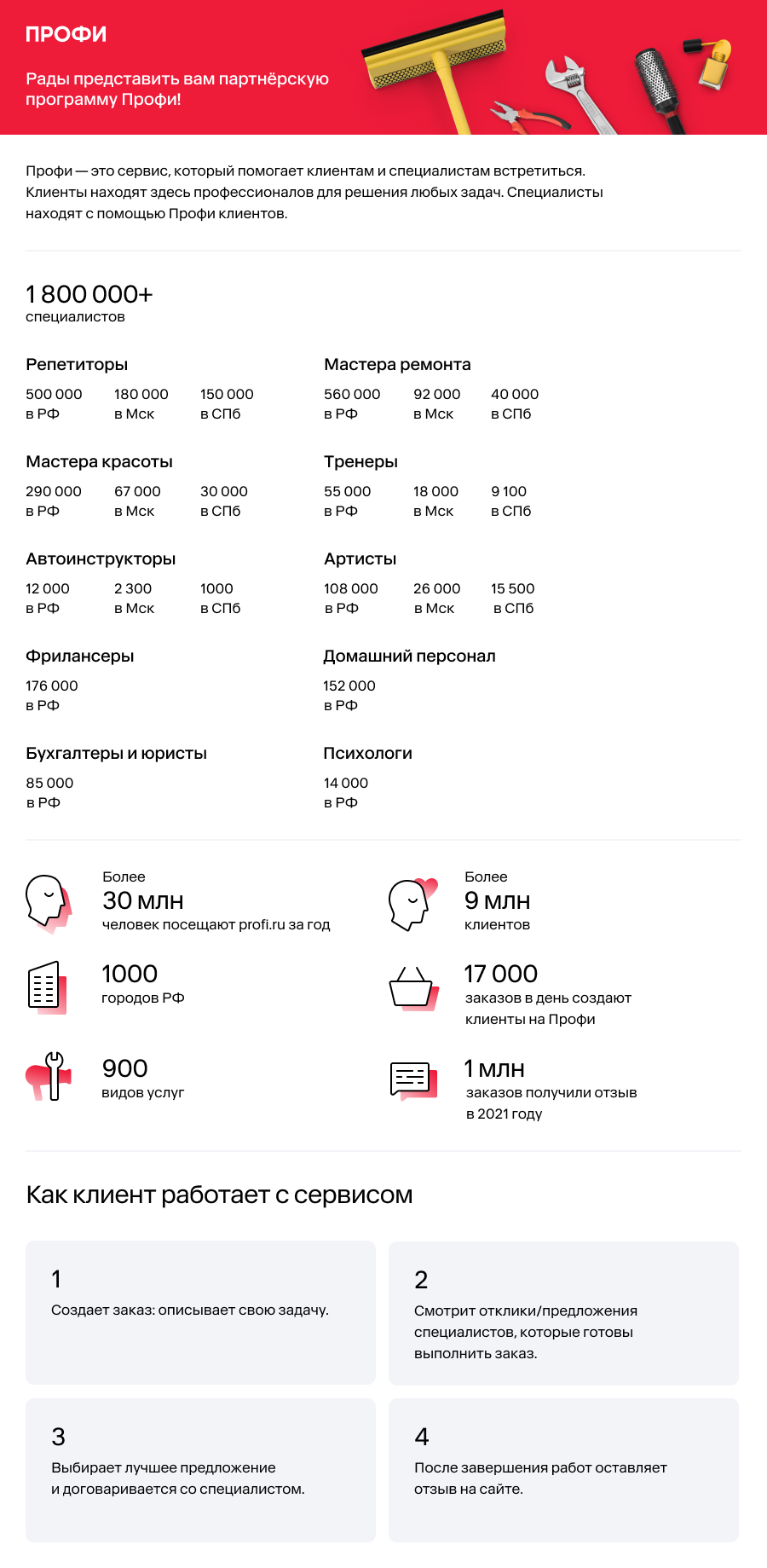 Работа с клиентами
Подтверждённый заказ*
-по специальностям
-по гео
* Критерии подтверждённого заказа:
-клиент указал достоверный номер телефона, по которому с ним можно связаться,
-клиент находится в РФ и заинтересован в использовании сервиса Профи,
-заказ не является фродовым**.
Качественные заказы будут оплачены веб-мастеру, некачественные — отклонены.
** Критерии НЕкачественного (фродового) заказа:
-указан номер телефона, по которому невозможно дозвониться до пользователя, оставившего заказ;
-клиент не знает о том, что он оставлял заказ; -клиент не подходит под ГЕО и ЦА;
-клиент мотивирован оставить заказ за вознаграждение: мотивированный трафик, трафик с буксов.
Работа со специлистами
Качественное резюме*** (все категории, кроме репетиторов)
-Москва и Санкт-Петербург
-остальные регионы РФ
*** Критерии качественного резюме:
-специалист подтвердил номер телефона и электронную почту, -заполнил обязательные поля в анкете,
-находится в РФ и может принимать заявки от клиентов, -ранее не проходил регистрацию на profi.ru.
Анкета каждого специалиста включает в себя подробную информацию с описанием опыта работы, с фотографиями, информацией об опыте и образовании, примерами работ и с настоящими отзывами клиентов.

Обратите внимание
-Веб-мастера, которые систематически приводят некачественный трафик, будут отключены от сотрудничества с отклонением выплат.
-Мотивированный трафик запрещён.
-Запрещён трафик с мессенджеров (спам-рассылка).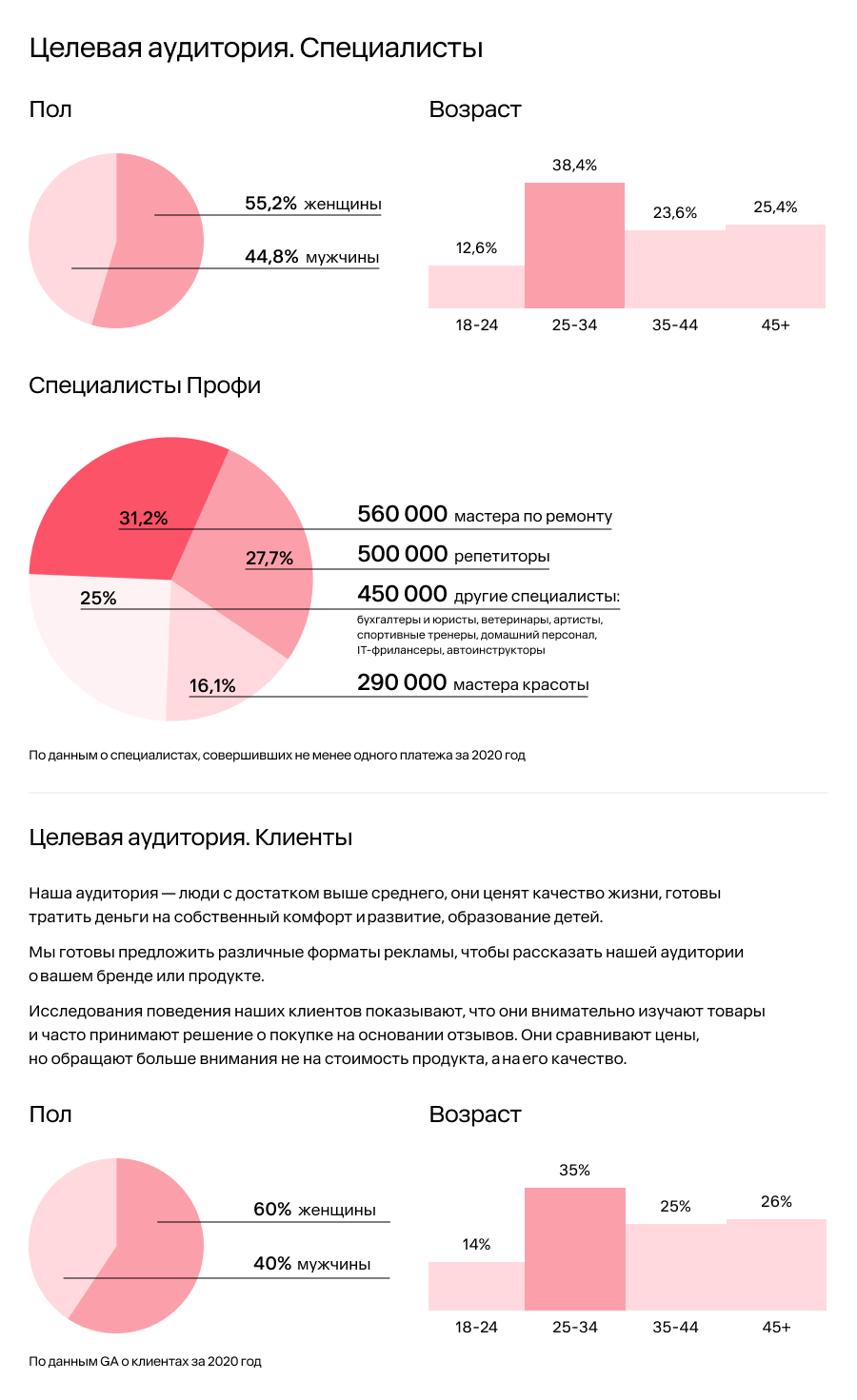 Дополнительная информация
Если вы планируете самостоятельно создавать креативы — прочитайте правила и присылайте креативы на модерацию: https://docs.google.com/document/d/1ek4GSUqZLZIjqlNEP28_ZZE_3SZWDFmrRdcpUx_L0GM/edit
Услуги репетиторов
Актёрское мастерство, английский язык, арабский язык, биология, бухгалтерский учёт, вокал, высшая математика, география, дизайн, журналистика, изо, информатика, испанский язык, история, итальянский язык, китайский язык, латынь, литература, логопеды.
Локальные языки: азербайджанский язык, албанский язык, армянский язык, бенгальский язык, болгарский язык, венгерский язык, вьетнамский язык, голландский язык, греческий язык, грузинский язык, датский язык, древнегреческий язык, иврит, индонезийский язык, каталанский язык, корейский язык, латышский язык, литовский язык, македонский язык, непальский язык, новогреческий язык, норвежский язык, персидский язык, польский язык, румынский язык, санскрит, сербский язык, словацкий язык, словенский язык, суахили, тайский язык, татарский язык, турецкий язык, финский язык, хорватский язык, чешский язык, шведский язык, эстонский язык.
МХК, маркетинг, математика, менеджмент, музыка, начальная школа, немецкий язык, обществознание, педагогика, подготовка к олимпиадам.
Подготовка к школе
Подготовка к экзаменам
A-Level, BCT, BEC, BJT, BULATS, CAE, CELI, CILS, CPE, DELE, DELF, DSD, DSH, ESOL, FCE, GCSE, GDS, GMAT, GRE, Goethe-Zertifikat, HSK, HSKK, ICFE, IELTS, ILEC, KDS, KET, PET, PLIDA, SAT, SSAT, TCF, TEF, TEFaQ, TKT, TOEFL, TOEIC, TOPIK, TestAS, TestDaF, YCT, YLE, ZD, ZMP, ЕГЭ, международные экзамены, ОГЭ.
Португальский язык, правоведение, программирование, психология, риторика, рукоделие, русский язык, физика, философия, фотодело, французский язык, химия, хинди, черчение, шахматы, экономика, языкознание, японский язык.
Все специалисты
Репетиторы, курсы, мастера по ремонту, мастера красоты, спортивные тренеры, автоинструкторы, артисты, домашний персонал, IT-фрилансеры, бухгалтеры и юристы, ветеринары.
Basics
Ограничение для новых вебмастеров по тарифу "резюме": общее кол-во =100 . (При достижении этого количества регистраций рекламодатель проверяет качество трафика)
ВНИМАНИЕ! Запрещено вести трафик со скидками! В противном случае заявка будет отклонена, а аккаунт заблокирован.
Передавать данные пользователя без его согласия запрещено.Допустимы только те случаи, когда заявка оставлена самим пользователем через сайт profi.ru.
С 23.04.2021 Правила написания названия бренда:
Новый бренд пишем так: пишем Профи без кавычек и без капслока (т.е. не "Профи" и не ПРОФИ) капслок допустим только на логотипе, т.е. есть визуальное изображение
профи, профи ру , профи.ру , profi , profiru, profi ru , profi.ru ,профиру
Last changes were recorded on 06.05.2022
Traffic Sources
| | |
| --- | --- |
| PopUp / ClickUnder | Forbidden |
| Mobile traffic | Allowed |
| Targeted ads | Allowed |
| Facebook | Allowed |
| VK | Allowed |
| MyTarget | Allowed |
| Other | Allowed |
| TikTok | Allowed |
| Content site | Allowed |
| Other | Allowed |
| Affiliate stores and price comparison services | Allowed |
| Forums | Allowed |
| Loyalty programs | Allowed |
| Messengers | Forbidden |
| Coupon services | Forbidden |
| Lead call | Forbidden |
| API traffic | Forbidden |
| YouTube Channel | Needs approval |
| Adult | Forbidden |
| Toolbar | Forbidden |
| Incentive | Forbidden |
| Groups and blogs on social Media | Needs approval |
| Brand bidding | Forbidden |
| Email Marketing | Needs approval |
| Banner and teaser advertising | Allowed |
| Cashback | Allowed |
| SEM | Needs approval |
Last changes were recorded on 20.12.2021