EPC

9€

CR

3.15%

CR for 48 hours

1.89%

Approval rate

93%

Cookie lifetime

30

days

Avg. hold time

69

days

Average payment time

69

days
Banners and Links
"Dynamic ads" tool shows ads for AliExpress products to the users based on their browsing behavior on AliExpress.com and the content of your website so that users see ads for only those products that they are interested in. Such targeting helps to increase the click-through rate of your ad and thus your reward. You can find more information about this tool in Help Center.
Program Analytics
Product Feeds
Here you can get a link to original product feed of this program. Links in product descriptions have been replaced by deeplinks. Time of last updating has also been added.
Products: &nbsp&nbsp Updated: &nbsp&nbsp Updated by advertiser:
Landing pages
This section provides the rating of landing pages of this affiliate program. You can learn and compare the average cost for click and conversion rates of different landing pages, or get links to them.
Program information
Why Admitad?
detail analytics and useful tools,
express payments,
enormous range of affiliate programs,
trusted by 674210 publishers,
and much more.
This affiliate program is a part of the Admitad affiliate network
In order to start cooperation with the program, first you need to register in the system.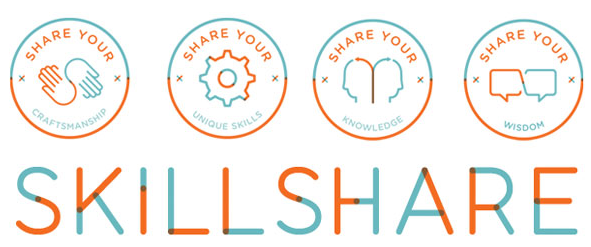 Skillshare.com is an online learning community where anyone can discover, take, or even teach a class.
Skillshare.com was started to close the professional skills gap and provide universal access to high-quality learning. By teaching the skills needed in tomorrow's world, Skillshare.com empowers people to advance their careers, improve their lives, and pursue the work they love.
Skillshare.com partners with like-minded companies to concept and produce online classes, marrying your content with our expertise in building highly engaging, authentic, online classes.
Skillshare.com also provides thousands of free classes for your career, passions and everything in between. The classes are taught by the world's best practitioners in design, business, photography and more.
Sincerely,
Skillshare.com affiliate program
Basics
Please keep in mind that your commission will be adjusted once the verification in the campaign is made. It means that from the very beginning all the actions will be tracked with the standard commission - 33.3%. The adjusted amounts will be available after the actions have been confirmed.
If it is determined that the Publisher traffic is in violation of any of the terms, any future commissions and current open orders from the Publisher will be rejected.
Paid Search Terms You may not bid on any keyword or keywords string on any biddable media (e.g. Google AdWords) where such keyword or keywords string is, or includes, one of our Trademarks - Skillshare - or any variation or misspelling of one of our Trademarks. Further, you may not bid on any word or term that is confusingly similar to any of our Trademarks standing alone. You may not use the Trademarks alongside or in conjunction with the following terms: "percent (%) off," "sale," or "coupons." Your Paid Ads aren't allowed to direct a customer directly to any Skillshare domain. You may not bid on any keyword or on any biddable media that is one of our competitors' trademarks (or a derivation of a competitor's trademark), or any other word or term that is likely to cause confusion regarding its affiliation with the competitor. Example of these keywords includes, but are not limited to: "Udemy," "Coursera," "Udacity," "Masterclass," and "CreativeLive." Skillshare.com may, in its sole discretion, terminate you on withhold payment of your Referral Fees for the days that we determine that you were bidding in violation of the keyword bidding requirements above.
Search Engine Optimization (SEO) Terms The tile of your page may not include deceptive, false or misleading terms such as "scam" and must accurately reflect the content of the message. - You must disclose clearly and conspicuously on your page that your message is an affiliate advertisement (e.g. We may receive a payment in connection with purchases of products or services featured in this article.) You can find more information and examples of Affiliate Disclosure online. - You may not rank for keyword or keywords string that is, or includes, one of our Trademarks - Skillshare - or any variation or misspelling of one of our Trademarks.
Any website or entity that promotes sexually explicit materials, violence, discrimination, and/or illegal activities are expressly prohibited from applying. Distributors of downloadable software, toolbars, browser helper objects, shopping assistance applications, etc. are not eligible from the program. All affiliates must comply with FTC's Endorsement Guidelines. Fraudulent behavior will be policed and penalized. Unlawful email or other communications ("Spamming") is strictly prohibited. Paid campaigns containing our trademarks are prohibited. Cybersquatting and typosquatting are prohibited.
Distributors of downloadable software, toolbars, browser helper objects, shopping assistance applications, etc. are not eligible from the program.

Fraudulent behavior will be policed and penalized.
Browser Extension: Browser extensions are prohibited.
Coupon and Promotional Codes Terms: Use of unauthorized links or coupon codes (links or codes not specifically provided to you through the Admitad Platform) by us in the Program is prohibited, and will result in the forfeiture of all commissions earned hereunder by Partner for the month(s) the unauthorized links or coupon codes appear on your site. Unauthorized coupon codes shall include, but not be limited to those coupon codes unrelated to the Program that are distributed through our sites, email newsletters, and any other Skillshare ad campaigns. Violation of the foregoing prohibitions may result in, among other things, the immediate termination of this Agreement and/ or the commencement of an action by Skillshare against you seeking, without limitation, injunctive relief, and/or recovery of actual statutory and/or punitive damages.
Add-on & Toolbars/ Trademark Violators/ Coupon and Content Thieves: You May Not -

Employ, use or place any web browser add-ons, toolbars, or pop-ups that drive to Skillshare on your website.

Engage in any direct or indirect relationships with ISPs and/or mobile carriers that result in the delivery or act of address bar keyword and URL error trafficking (e.g., a user mistypes a web address in the ISP's address bar or search bar, and, as a result, is redirected to a web page that contains a Qualifying Link that directs the user to site like Skillshare.com).

Without the prior approval of Skillshare.com, use any Trademark, or any Licensed Material in an advertisement that is not created or provided by Skillshare.com in any way that might suggest or imply or mislead or is likely to mislead a visitor to your website into believing that Skillshare was the creator or sponsor of such advertisement.

Employ, use, or receive any direct or indirect benefit from, any "cookie stuffing" methods (e.g. use of "cookie stuffing" to cause Impact Radius's tracking systems to conclude that a user has clicked through a Qualifying Link - and to pay commissions accordingly - even if the user has not actually clicked through any such link).
Paid Search Terms: Skillshare does not allow partners to engage in paid search marketing that directs a customer directly to any Skillshare domain.
Below are the geos to avoid:
Russia
Pakistan
Vietnam
Ukraine
Nigeria
Portugal
Egypt
Bangladesh
Morocco
Peru
Kazakhstan
Algeria
Kenya
Belarus
Georgia
Sri Lanka
Venezuela (Bolivarian Republic)
Jamaica
Lebanon
Bosnia and Herzegovina
El Salvador
Jordan
Azerbaijan
Albania
Moldova
Ghana
Skillshare 2021 Brand Guidelines
Requirements for new partners:
deal or loyalty partners should have a minimum of 25,000 monthly unique visitors

social media pages should not have fewer than 5,000 followers
Last changes were recorded on 19.04.2022
Traffic Sources
| | |
| --- | --- |
| PopUp / ClickUnder | Forbidden |
| Mobile traffic | Needs approval |
| Content site | With limitation |
| Other | Forbidden |
| Affiliate stores and price comparison services | Needs approval |
| Forums | Needs approval |
| Loyalty programs | Needs approval |
| Messengers | Needs approval |
| Coupon services | Needs approval |
| YouTube Channel | Needs approval |
| Adult | Forbidden |
| Toolbar | Forbidden |
| Incentive | Forbidden |
| Groups and blogs on social Media | Needs approval |
| Brand bidding | Forbidden |
| Email Marketing | Needs approval |
| Banner and teaser advertising | Needs approval |
| Cashback | Forbidden |
| SEM | Needs approval |
Last changes were recorded on 19.10.2022