EPC

1$

CR

1.43%

CR for 48 hours

0.00%

Approval rate

93%

Cookie lifetime

7

days

Avg. hold time

74

days

Average payment time

77

days
Banners and Links
"Dynamic ads" tool shows ads for AliExpress products to the users based on their browsing behavior on AliExpress.com and the content of your website so that users see ads for only those products that they are interested in. Such targeting helps to increase the click-through rate of your ad and thus your reward. You can find more information about this tool in Help Center.
Program Analytics
Product Feeds
Here you can get a link to original product feed of this program. Links in product descriptions have been replaced by deeplinks. Time of last updating has also been added.
Products: &nbsp&nbsp Updated: &nbsp&nbsp Updated by advertiser:
Landing pages
This section provides the rating of landing pages of this affiliate program. You can learn and compare the average cost for click and conversion rates of different landing pages, or get links to them.
Program information
Why Admitad?
detail analytics and useful tools,
express payments,
enormous range of affiliate programs,
trusted by 666987 publishers,
and much more.
This affiliate program is a part of the Admitad affiliate network
In order to start cooperation with the program, first you need to register in the system.
Udemy is a leading marketplace platform for learning and teaching online. We break down the barriers of traditional education and create possibilities through learning.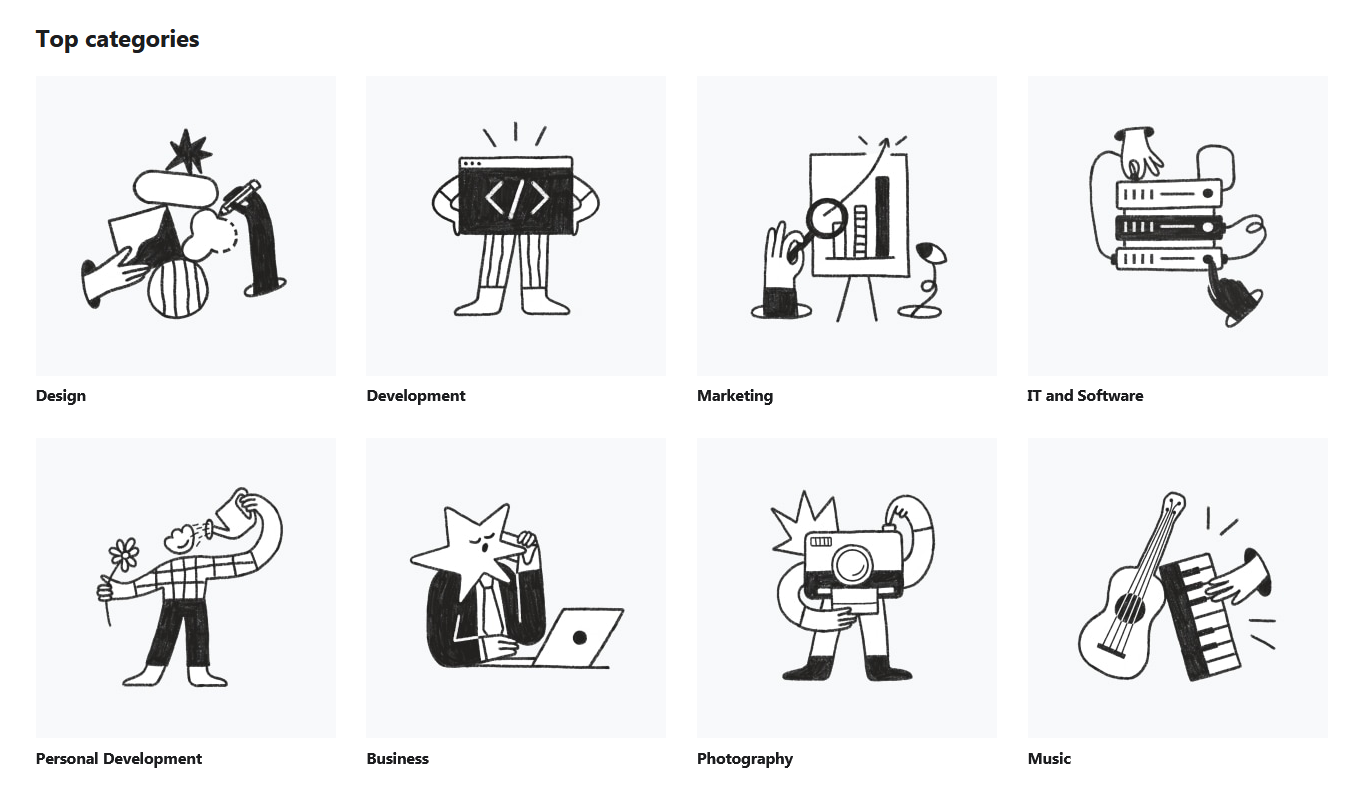 We have prepared a handy document where you can find our Top Courses in the most popular topics and Top Courses by Language & categories.
With us, you will have:
Highest converting offers in online learning. We pay you a commission for every paid course coming from your affiliate tracking links, including purchases up to 7 days after the first purchase
Access to review Udemy courses for your affiliate promotions. Once you are approved, you can ask us about reviewing a course for free before promoting it to your audience. We want to make sure you promote a product you believe in.
Other benefits:
product feed
promotions
banners and landing pages
(The list of negative keywords is available in Rules. Please, read the basic rules to know all the details of the campaign)
Important! Affiliates are not allowed to use instructor coupons! Sales made with the help of instructor coupons are not attributed to affiliates.

Promote a product that is always useful, that people always want, and that will never go out of style: thousands of online courses in hundreds of categories!
Basics
Please, read carefully the Obligations and Responsibilities of affiliates.
Note that actions appear in statistics with a 3-day delay.
Cookie lifetime is 7 days.
Sales from the Udemy app are not tracked.
SEM is forbidden. Negative keywords: Udemy, Юдеми, Udemy coupon, Udemy promocode, Udemy promotion, Udemy courses, Udemy learning, coupon for Udemy, Udemy course coupon, Udemy discount, Udemy coupon code,coupon Udemy, Udemy discount code, Udemy promo code,Udemmy, Udeemy, udmy, uudemy, uddemmy, u-demy, udemi, youdemi, youdemy, uddemmi + any variations in your language + any misspellings + any combination of keywords that contain Udemy Brand name in it.
This applies to Google Ads, Facebook Ads, Facebook Boost Post, Instagram Ads, Twitter Ads or any form of Paid Advertising.
Important! Affiliates are not allowed to use instructor coupons! Sales made with the help of instructor coupons are not attributed to affiliates.
Social media rules
your page/ group/ channel should have at least 1000 followers/subscribers with engagement from the visitors and updated content for users. Facebook groups must be publicly accessible.
personal profiles are not allowed, webmasters with private groups on social media must prove their ownership of such adspaces through a ticket
in case of channels in Telegram, Whatsapp, Viber, please, create a ticket and provide the links to communities where you are going to promote Udemy and examples of ads
Apps
please, be ready to provide examples of your ads
Sites
sites should have at least 500 monthly visits
Last changes were recorded on 07.10.2021
Traffic Sources
| | |
| --- | --- |
| PopUp / ClickUnder | Forbidden |
| Mobile traffic | Allowed |
| Targeted ads | Forbidden |
| Facebook | Forbidden |
| VK | Forbidden |
| MyTarget | Forbidden |
| Other | Forbidden |
| TikTok | Forbidden |
| Content site | Allowed |
| Other | Allowed |
| Affiliate stores and price comparison services | Allowed |
| Forums | Allowed |
| Loyalty programs | Allowed |
| Messengers | Allowed |
| Coupon services | Allowed |
| YouTube Channel | Allowed |
| Adult | Forbidden |
| Toolbar | Forbidden |
| Incentive | Forbidden |
| Groups and blogs on social Media | Needs approval |
| Brand bidding | Forbidden |
| Email Marketing | Allowed |
| Banner and teaser advertising | Allowed |
| Cashback | Allowed |
| SEM | Forbidden |
Last changes were recorded on 23.12.2021