EPC

1 182 ₽

CR

0.88%

CR for 48 hours

0.51%

Approval rate

81%

Cookie lifetime

30

days

Avg. hold time

29

days

Average payment time

29

days
Banners and Links
"Dynamic ads" tool shows ads for AliExpress products to the users based on their browsing behavior on AliExpress.com and the content of your website so that users see ads for only those products that they are interested in. Such targeting helps to increase the click-through rate of your ad and thus your reward. You can find more information about this tool in Help Center.
Program Analytics
Product Feeds
Here you can get a link to original product feed of this program. Links in product descriptions have been replaced by deeplinks. Time of last updating has also been added.
Products: &nbsp&nbsp Updated: &nbsp&nbsp Updated by advertiser:
Landing pages
This section provides the rating of landing pages of this affiliate program. You can learn and compare the average cost for click and conversion rates of different landing pages, or get links to them.
Bonus programs
If you received access to this section, it means that the affiliate program allows you to earn more money than the standard reward allows. For a bigger profit, obtain the volumes to receive bonuses.
| Bonus program | Rate | Type of condition | Min limit | Max limit | New reward | Valid from |
| --- | --- | --- | --- | --- | --- | --- |
| Бонусная программа (10%) от 251 до 350 действий | | For number of actions | 251 | 350 | 10.00 % | 15.09.2021 |
| Бонусная программа (15%) от 351 до 400 действий | | For number of actions | 351 | 400 | 15.00 % | 15.09.2021 |
| Бонусная программа (20%) от 401 до 500 действий | | For number of actions | 401 | 500 | 20.00 % | 15.09.2021 |
| Бонусная программа (35%) от 501 действий | | For number of actions | 501 | 1000 | 35.00 % | 15.09.2021 |
Program review
Why Admitad?
detail analytics and useful tools,
express payments,
enormous range of affiliate programs,
trusted by 696922 publishers,
and much more.
This affiliate program is a part of the Admitad affiliate network
In order to start cooperation with the program, first you need to register in the system.
О компании:
В первый раз видите наш магазин? Скорее всего, так и есть, ведь мы не кричим о наших «супер» акциях с экрана телевизора, не маним яркими огнями вывесок. Может быть, мы бы и рады оказаться на одной ступеньке с «титанами» этой сферы, но мы очень маленькие. Это минус для нас, который оборачивается для Вас выгодой. ⁠Почему? В отличие от крупных сетей – нам приходится бороться за каждого клиента. Что потеряет какой-либо интернет-гипермаркет если человек уйдет из него без покупки? А для нас - это повод задуматься. В отличие от «титанов» этой индустрии мы не измеряем своих клиентов в процентах, мы придерживаемся индивидуального подхода к каждому посетителю и лишаем себя «права на ошибку», а потому вы никогда не испытаете к себе невнимательности и грубости с нашей стороны. Лишь кропотливая и упорная работа над собой, позволяет нам создать все условия для Вашего возвращения к нам снова и снова. В ассортименте магазина video-shoper.ru представлены все популярные товары и бренды из мира электроники.

Целевая аудитория магазина
Возраст:
25-34 года 34,8 %
35-44 года 23,7 %
45-54 года 15,3 %
18-24 года 13 %
55 лет и старше 9,52 %

Тип устройства:
Смартфоны 61,2 %
ПК 33,7 %
Планшеты 5,06 %

ГЕО (доставка только в данных регионах):
Москва
Московская область

Преимущества для покупателей:
1. Доставка в день заказа
2. Две недели на возврат без скандалов и экспертиз
3. Надежная гарантия как от магазина так и от производителя
4. Видео обзоры на товары
5. Несколько комплектов к товару на выбор
6. Прямая связь с руководителем
7. Техническая поддержка пользователей
Преимущества для партнеров:
1. Высокая популярность представленных товаров
2. Конкурентная цена на представленные товары
3. Высокий средний чек 40 000 руб.
4. Высокое вознаграждение вебмастеров
Basics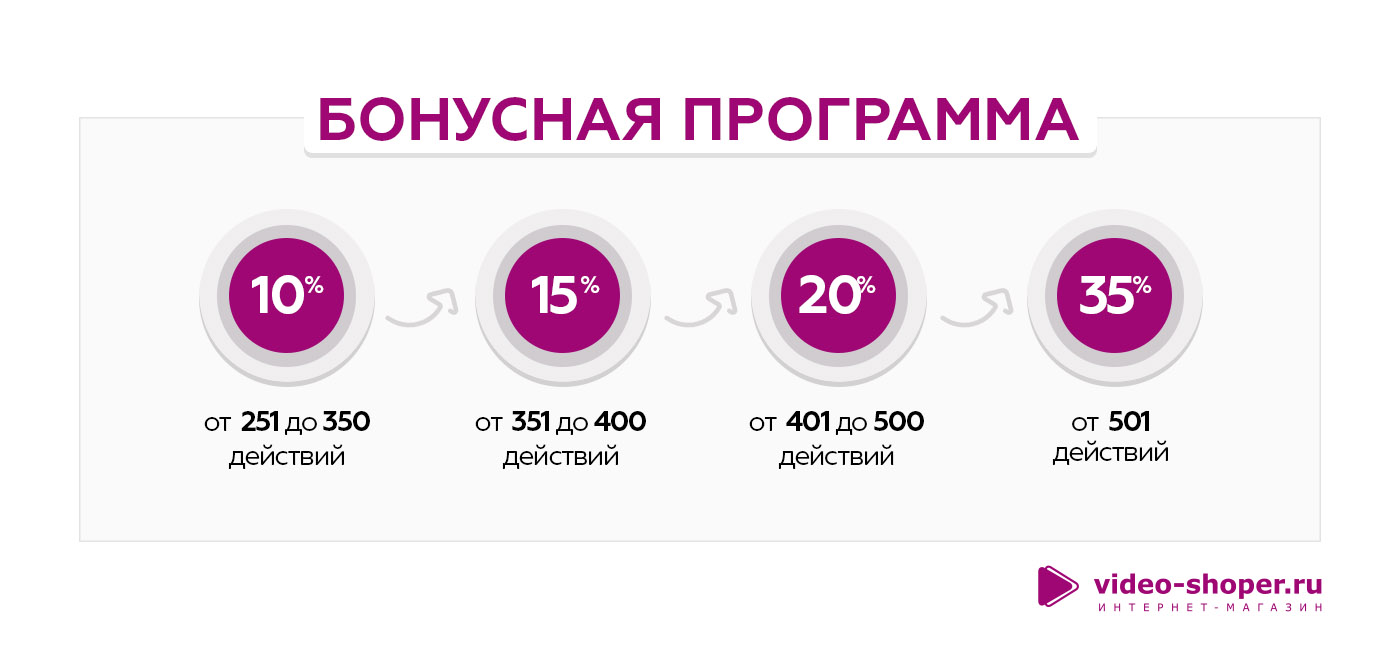 Минус слова по ссылке тут.
Расшифровка тарифов по ссылке - тут.
Магазин доставляет только по Москве и МО, заказы из других регионов будут отклонены.
Last changes were recorded on 26.08.2022
Traffic Sources
| | |
| --- | --- |
| PopUp / ClickUnder | Forbidden |
| Mobile traffic | Allowed |
| Targeted ads | Allowed |
| Facebook | Allowed |
| VK | Allowed |
| MyTarget | Allowed |
| Other | Allowed |
| TikTok | Allowed |
| Content site | Allowed |
| Other | Allowed |
| Affiliate stores and price comparison services | Allowed |
| Forums | Allowed |
| Loyalty programs | Allowed |
| Messengers | Allowed |
| Coupon services | Allowed |
| Lead call | Forbidden |
| API traffic | Forbidden |
| YouTube Channel | Allowed |
| Adult | Forbidden |
| Toolbar | Forbidden |
| Incentive | Forbidden |
| Groups and blogs on social Media | Allowed |
| Brand bidding | Forbidden |
| Email Marketing | Allowed |
| Banner and teaser advertising | Allowed |
| Cashback | Allowed |
| SEM | Allowed |
Last changes were recorded on 08.02.2022