EPC

No data available

CR

0.01%

CR for 48 hours

0.17%

Approval rate

100%

Cookie lifetime

60

days

Avg. hold time

72

days

Average payment time

72

days
Banners and Links
"Dynamic ads" tool shows ads for AliExpress products to the users based on their browsing behavior on AliExpress.com and the content of your website so that users see ads for only those products that they are interested in. Such targeting helps to increase the click-through rate of your ad and thus your reward. You can find more information about this tool in Help Center.
Program Analytics
Product Feeds
Here you can get a link to original product feed of this program. Links in product descriptions have been replaced by deeplinks. Time of last updating has also been added.
Products: &nbsp&nbsp Updated: &nbsp&nbsp Updated by advertiser:
Landing pages
This section provides the rating of landing pages of this affiliate program. You can learn and compare the average cost for click and conversion rates of different landing pages, or get links to them.
Program information
Why Admitad?
detail analytics and useful tools,
express payments,
enormous range of affiliate programs,
trusted by 674210 publishers,
and much more.
This affiliate program is a part of the Admitad affiliate network
In order to start cooperation with the program, first you need to register in the system.
InVideo helps you to transform your content into great videos. We serve media companies, small businesses, brands, and creative folks to expand audience engagement through the power of video content. Our platform is ideal for marketers, publishers, creative individuals, and agencies to take their brand content strategy to the next level. We are a team of highly motivated individuals who pride ourselves in providing exceptional customer service, Join us for an exciting journey ahead. The future of content is InVideo.
Target audience:
M+F
Age: 16+
Geographies: global
Top countries: USA, UK, AUSTRALIA, GERMANY, FRANCE, SINGAPORE AND SEA, CANADA, INDIA.
Profession: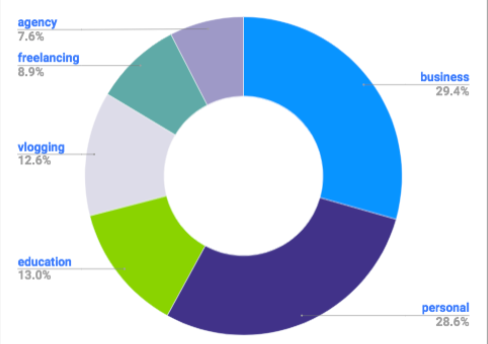 Advantages for publishers:
Earn competitive commissions
Promote a very highly in-demand product - more and more people are using video content than ever before and growing more so each day
High conversion rate - InVideo offers a free account that generates high conversion rates, with a strong conversion rate from free to paid within the cookie window period
Advantages for customers:
Get started for free!
Get 25% off or more when you decide to upgrade to a paid subscription
Basics
Brand bidding is strictly prohibited. Please do not bid on the brand name "InVideo".
However, you're allowed to drive TM+ traffic for the program. Word combinations like "InVideo discount" or "InVideo coupon code" are allowed for PPC ads/SEM traffic.
If it is determined that the Publisher traffic is in violation of any of the terms, pending orders and commissions will be declined.
Last changes were recorded on 25.01.2021
Traffic Sources
| | |
| --- | --- |
| PopUp / ClickUnder | Allowed |
| Content site | Allowed |
| Other | Allowed |
| Affiliate stores and price comparison services | Allowed |
| Forums | Allowed |
| Loyalty programs | Allowed |
| Messengers | Allowed |
| Coupon services | Allowed |
| YouTube Channel | Allowed |
| Adult | Allowed |
| Toolbar | Allowed |
| Incentive | Allowed |
| Groups and blogs on social Media | Needs approval |
| Email Marketing | Allowed |
| Banner and teaser advertising | Allowed |
| Cashback | Allowed |
| SEM | Needs approval |
Last changes were recorded on 17.12.2021