EPC

No data available

CR

No data available

CR for 48 hours

30.84%

Approval rate

No data available

Cookie lifetime

30

days

Avg. hold time

No data available

Average payment time

No data available
Banners and Links
"Dynamic ads" tool shows ads for AliExpress products to the users based on their browsing behavior on AliExpress.com and the content of your website so that users see ads for only those products that they are interested in. Such targeting helps to increase the click-through rate of your ad and thus your reward. You can find more information about this tool in Help Center.
Program Analytics
Product Feeds
Here you can get a link to original product feed of this program. Links in product descriptions have been replaced by deeplinks. Time of last updating has also been added.
Products: &nbsp&nbsp Updated: &nbsp&nbsp Updated by advertiser:
Landing pages
This section provides the rating of landing pages of this affiliate program. You can learn and compare the average cost for click and conversion rates of different landing pages, or get links to them.
Program review
Why Admitad?
detail analytics and useful tools,
express payments,
enormous range of affiliate programs,
trusted by 806389 publishers,
and much more.
This affiliate program is a part of the Admitad affiliate network
In order to start cooperation with the program, first you need to register in the system.
Подключайтесь к партнёрской программе COZY HOME [CPI, IOS] RU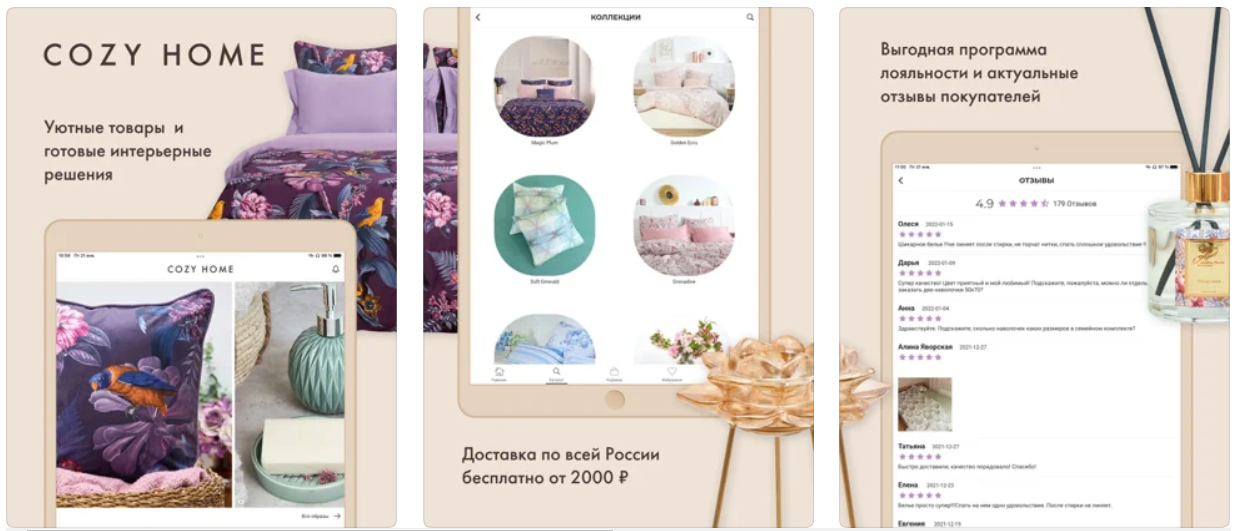 ​ ​​​​​​Приложение COZY HOME - это большой выбор постельного белья высокого качества и на любой вкус, декора для дома, посуды, домашней одежды. Всё для создания уютной атмосферы в вашем доме.
Условия партнёрской программы:
Целевая аудитория :
Женщины, 25-45, Интересы: Товары для дома
Версия ОС :
Требуется : IOS 12.0 и новее

Размер : 106,4 MB
Разрешенные источники:
Паблики в соц. Сетях

In-app (по согласованию, обратитесь через менеджера)

Youtube

Telegram
Вознаграждение вебмастера за установку приложения новым пользователем 49.5 рублей
Запрещенные источники:
Кликандер/попандер

TikTok

MyTarget

Контекстная сеть Яндекса

Google

Мислид

Adult

No fraud
Дополнительные материалы и Креативы:
Официальные креативы можно скачать

здесь

Промокод COZYMOB10 (10% скидку на покупку в мобильном приложении, на корзину от 3500 руб) Не распространяется на товары со скидкой выше 80%. Действует до 30 Апреля.
При обнаружении несогласованных креативов паблишер отправляется в блеклист и установки не оплачиваются!
Собственные рекламные материалы необходимо согласовывать у вашего личного менеджера или через тикеты. В теме письма указывайте свой логин и название оффера.Креативы согласовываем два раза в неделю - понедельник и четверг.
Пример: "Креативы от user3566 для COZY HOME [IOS ,non-incent, RU+CIS]".

Best regards, admitad afiliate team!
Basics
Условия партнерской программы:
Целевая аудитория :
Женщины, 25-45, Интересы: Товары для дома
Версия ОС :
Требуется : IOS 12.0 и новее

Размер : 106,4 MB
Разрешенные источники:
Паблики в соц. Сетях

In-app (по согласованию, обратитесь через менеджера)

Youtube

Telegram

Вознаграждение вебмастера за установку приложения новым пользователем 49.5 рублей
Last changes were recorded on 25.03.2022
Traffic Sources
| | |
| --- | --- |
| PopUp / ClickUnder | Forbidden |
| Mobile traffic | Needs approval |
| Targeted ads | With limitation |
| VK | Allowed |
| MyTarget | Forbidden |
| Other | Forbidden |
| TikTok | Forbidden |
| Content site | Forbidden |
| Other | Forbidden |
| Affiliate stores and price comparison services | Forbidden |
| Forums | Forbidden |
| Loyalty programs | Forbidden |
| Messengers | Allowed |
| Coupon services | Forbidden |
| Lead call | Forbidden |
| API traffic | Forbidden |
| YouTube Channel | Allowed |
| Adult | Forbidden |
| Toolbar | Forbidden |
| Incentive | Forbidden |
| Groups and blogs on social Media | Needs approval |
| Brand bidding | Forbidden |
| Email Marketing | Forbidden |
| Banner and teaser advertising | Forbidden |
| Cashback | Forbidden |
| SEM | Forbidden |
| Yandex.Direct | Forbidden |
| Google Ads | Forbidden |
Last changes were recorded on 04.05.2022