EPC

No data available

CR

No data available

CR for 48 hours

10.00%

Approval rate

No data available

Cookie lifetime

30

days

Avg. hold time

No data available

Average payment time

No data available
Banners and Links
"Dynamic ads" tool shows ads for AliExpress products to the users based on their browsing behavior on AliExpress.com and the content of your website so that users see ads for only those products that they are interested in. Such targeting helps to increase the click-through rate of your ad and thus your reward. You can find more information about this tool in Help Center.
Program Analytics
Product Feeds
Here you can get a link to original product feed of this program. Links in product descriptions have been replaced by deeplinks. Time of last updating has also been added.
Products: &nbsp&nbsp Updated: &nbsp&nbsp Updated by advertiser:
Landing pages
This section provides the rating of landing pages of this affiliate program. You can learn and compare the average cost for click and conversion rates of different landing pages, or get links to them.
Program review
Why Admitad?
detail analytics and useful tools,
express payments,
enormous range of affiliate programs,
trusted by 721692 publishers,
and much more.
This affiliate program is a part of the Admitad affiliate network
In order to start cooperation with the program, first you need to register in the system.
Join affiliate program : Alpha Security Antivirus [CPI, Android] WW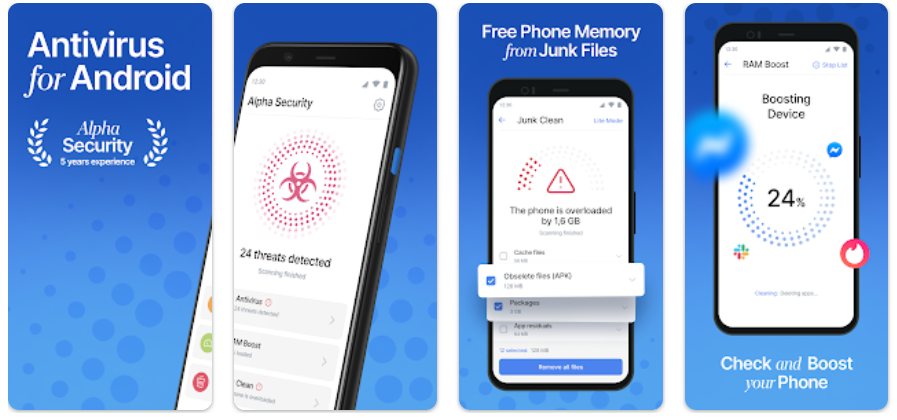 Why Alpha Security is a MUST-HAVE app?

★ Virus Remover for Android
★ Effective Speed Booster & Smart Cache Cleaner
★ Smart Battery Saver
Install this super android antivirus, the all in one toolbox, Android Protection, and Android Clean Master now to clean and boost your android phone. You won't ask how to clean my android phone any more.
Affiliate program terms and conditions:

Geo:
WW (except China, Russia, Ukraine)
The target audience:
Device version:
Android 5.0 or later.

Size : depends on the device
SOFT KPI -
RRd1 >24%
HARD KPI -
CR (click to install) >0,01%
CTIT >30sec
CTIT 60min+ <10%
Allowed traffic sources:
Social media channels

In-app

Banner ads

Google

Youtube

Pop up/ Clickunder

TikTok

Appspress

Adult
Prohibited traffic sources
Additional materials and creatives:
When uncoordinated creatives are detected, the publisher is sent to the blacklist and installations are not paid for!
Self-made creatives should be approved by your personal publisher manager or via admitad's ticket system. Please write your Login and Campaign Name in the subject of the e-mail.
Example: Creatives from user 8481 for Alpha Security Antivirus [CPI, Android] WW


Best regards, admitad afilliate team!
Basics
Affiliate program terms and conditions:

Geo:
WW (except China, Russia, Ukraine)
The target audience:
Device version:
Android 5.0 or later.

Size : depends on the device
SOFT KPI -
RRd1 >24%
HARD KPI -
CR (click to install) >0,01%
CTIT >30sec
CTIT 60min+ <10%
Last changes were recorded on 22.07.2022
Traffic Sources
| | |
| --- | --- |
| PopUp / ClickUnder | Allowed |
| Targeted ads | Allowed |
| Facebook | Allowed |
| VK | Allowed |
| MyTarget | Allowed |
| Other | Allowed |
| TikTok | Allowed |
| Content site | Allowed |
| Other | Allowed |
| Affiliate stores and price comparison services | Allowed |
| Forums | Allowed |
| YouTube Channel | Allowed |
| Adult | Allowed |
| Incentive | Forbidden |
| Groups and blogs on social Media | Allowed |
| Banner and teaser advertising | Allowed |
| SEM | Allowed |
| Yandex.Direct | Allowed |
| Google Ads | Allowed |
Last changes were recorded on 22.07.2022